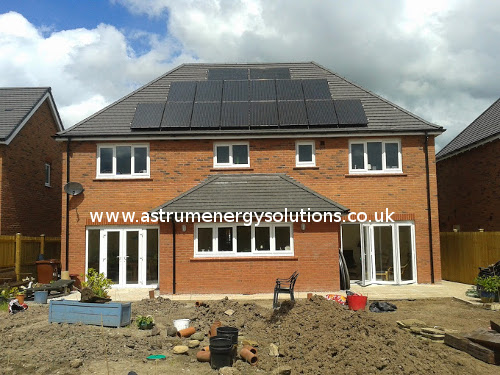 Solar Panel Installer Cheshire
.
What are solar panels?
Solar panels come in two categories, solar thermal and solar photovoltaic (PV). Solar thermal panels convert the Sun's energy into hot water for use in the home, whilst solar PV panels convert the Sun's energy into electricity, The electricity generated can be used by the property and any excess (unused) power is exported to the national grid to be used elsewhere.
Why Install Solar Panels?

They will reduce your annual electricity bill.

They will add value to your property.

They will make it easier to sell your property.

They will help you reduce your carbon emissions, thus helping the environment.

They are a good investment compared to current bank interest rates.

How long does it take to have solar panels installed?
It normally takes us a day to install solar panels in Cheshire, however this may take up to two days if we encounter any problems or things don't quite go to plan. If your schedule prohibits a week day install, we will be more than happy to do it over the weekend.
Why should I use Astrum Energy Solutions?
We've been selling solar equipment since 2006, long before most of our competitors had even looked at a solar panel. We became MCS accredited in 2010 allowing us to offer systems that qualify for feed in tariff payments.

We know what we are doing and know all of our products well, this allows us to give expert advice and excellent after sales support.

We don't employ pushy salesmen, you will be visited by the owner of the company who will also be present during the entire installation. There's no hard sell, just a common sense approach.
Call us on 01925 790 860 for a free no obligation quotation.
Astrum Energy Solutions are based in Warrington and are able to install solar panels across Cheshire, Merseyside, Lancashire and North Wales
Based in Warrington, we are able to install solar panels across the whole of the North West, in places such as Chester, Liverpool, Manchester, Cheshire, Greater Manchester, Lancashire, Merseyside and North Wales.